What is Biohazard Cleanup and How We Can Help
7/24/2023 (Permalink)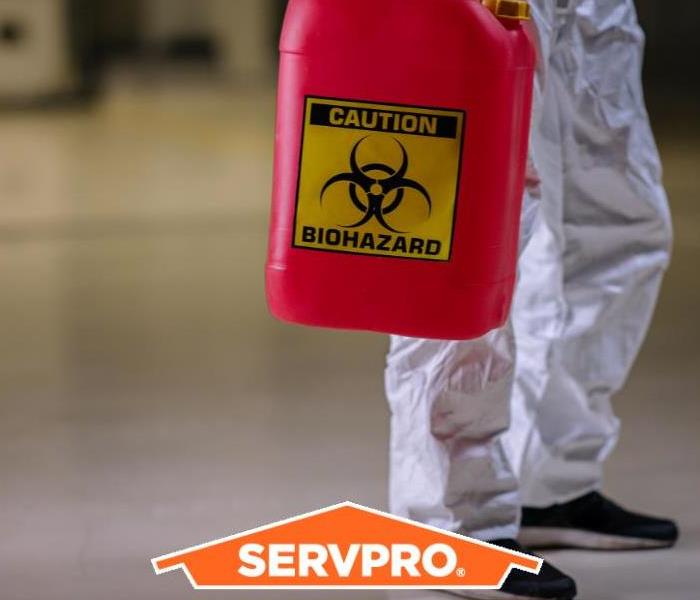 Exposure to any biological material and chemical contaminants can pose serious health consequences. If such substances are not removed, they can contribute to unhealthy and dangerous environments. SERVPRO of Lower Manhattan/Financial District is trained to safely remove biohazards and dispose of them properly in accordance with OSHA and health regulations.
If you're not completely sure if your cleanup needs are considered a biohazard cleanup or not, continue reading for specific types, scenarios, and more information around this service.
Do You Need Biohazard Cleanup Services?
The decontamination of a home or business due to trauma, medical incidents, sewage backups, chemical spills, hoarding, or other biohazards can both be dangerous and emotional. Specialized training and experience is key when choosing a cleanup company to resolve these circumstances.
SERVPRO of Lower Manhattan provides cleanup solutions and recovery services for many biohazard situations including:
Suicide/death accidents
Homicide cleanups
Blood cleanup
Accident cleanup
Hoarding scenes
Animal waste/remains
Chemical spills
Tear gas cleanup
Meth lab cleanup
Common Biohazard Scenarios
There are three common biohazard scenarios. These are sewage backups, bloodborne pathogens, and illegal drug manufacturing labs/meth labs.
Sewage Backups- Sewage backups and dark water intrusions are more than nasty, smelly deposits - these damages also introduce harmful microorganisms into a structure. We remove the sewage, contaminants, and moisture, and help ensure the structure is properly clean, disinfected, and deodorized.
Bloodborne Pathogens- We remove and dispose of bodily fluids, tissue, and other potentially pathogenic substances resulting from an accident, trauma, crime, or death. Trained SERVPRO franchise professionals clean, disinfect, and deodorize the structure.
Illegal Drug Manufacturing Labs/Meth Labs- SERVPRO realizes many of the chemicals used in the production of illegal drugs such as "meth" are volatile and can leave harmful residues throughout a structure. We follow federal and state guidelines to properly clean all surfaces.
Do Not Try at Home
If you believe your home or business is in need of biohazard cleaning, don't try to clean it up on your own. Bleach is only going to go so far, especially if you're dealing with sewage backups, blood, animal waste, and other bodily fluids, especially chemical spills. DIY cleaning solutions should not even be thought of when it comes to scenarios like these. You'll be putting yourself as well as anyone else that uses or lives in the structure at risk for health problems.
When it comes to a crime scene cleanup, this is a specific scenario that is handled by law enforcement and a professional cleaning company like SERVPRO. There are many rules and state regulations that need to be followed when it comes to a cleanup like this, so don't try to just apply bleach and think it's ready to go.
When it comes to sewage backups, the flooding from this creates a contaminated area full of hazardous materials, human waste, and possible chemicals that can be life threatening if touched or if you get too close. Leave it to the professionals.
Biohazard & Sewage Emergency Tips
After any biohazard or sewage contamination in your home or business, your primary focus should be safety:
Is it safe to stay in the house?
Exposure to biological and chemical contaminants can pose serious health consequences.
Flood water can contain sewage, pesticides, and other contaminants.
Only do activities that are safe for you to perform.
What to do AFTER a contamination:
Stay out of affected areas.
Call emergency service personnel if the situation is dangerous to your health.
Treat ALL bodily fluids as if they are contaminated.
Turn off the HVAC system if there is sewage damage.
What NOT to do after a contamination:
Don't leave wet fabrics in place. Hang furs and leather goods.
Don't leave books, magazines, or other colored items on wet carpets or floors.
Don't use your household vacuum to remove water.
Don't use television or other household appliances.
Don't turn on ceiling fixtures if the ceiling is wet, and keep out of rooms where ceilings are sagging.
SERVPRO Provides 24-Hour Emergency Service
We are available 24 hours a day with our highly trained technicians standing by. We have qualified trained professionals who are ready to respond to these incidents. We will always treat your property and the people involved with the greatest empathy and respect in the face of trying circumstances.
We don't only offer biohazard cleanup services, but also cleaning services such as air ducts & HVAC, carpet & upholstery, ceiling/floors/walls, drapes & blinds, odor removal, sewage & toilet overflow, vandalism & graffiti, building services, and all kinds of commercial cleaning services.

About SERVPRO Team Harvey
SERVPRO of Lower Manhattan is proudly owned by Lance and Jennifer Harvey - a husband and wife duo that owns three other SERVPRO locations, including SERVPRO of Aberdeen/Holmdel, SERVPRO of West Somerset County, and SERVPRO of Hoboken/Union City.
We understand the stress and worry that comes with a fire or water damage and the disruption it causes your home or business. Our goal is to help minimize the interruption to your life and quickly make it "like it never even happened."